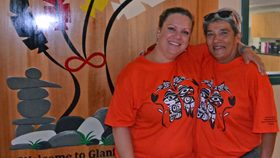 As long as we have been a middle school our Miss Elaine has been walking our hallways, joining our classes, and playing on our fields.  Mostly though she has been doing what she loves most, helping our kids take the sometimes difficult steps towards responsible independence.  Adolescence can be bumpy and all of us at Glanford – staff, students, and families –  have been thankful for Miss Elaine's willingness to share her wisdom to help smooth the road a little bit.
Recently, Miss Elaine was nominated for the Premier's Award for Excellence in Education.  A high honour indeed and well-deserved.  We also celebrated our friend with a First Nation's Drumming Circle of the Lekwungen Celebration Song at our October Retro-Assembly.
Congratulations to you, Miss Elaine, and thank you for all you have done to make Glanford Middle School a great place to learn, grow, and play.