Greetings to the GMS learning community!   Glanford Middle School – A Great Place for Learning!
The first month of school is complete, classes are set, and we are engaged in the learning process at GMS.  Our school culture, fostering a sense of belonging for all, remains a top priority.  Connecting with kids is what the GMS staff do extremely well.
Students are focusing on academic learning.  Setting good routines while at school and while at home allow for students to best reach their learning potential.  A strong relationship between parents and staff also promotes learning and we encourage conversations between families and staff.  Social, emotional, and physical learning are all priorities as well.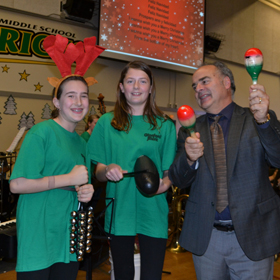 The GMS learning community is committed to offering as many possibilities for kids as we possibly can.  At this time, we have a huge number of extra curricular opportunities for our students.  Parents can check out the list of what is being offered by accessing our Athletics/Fine Arts/Extra-Curricular calendar now posted on our website.
See you in and around GMS!
Mr. Scigliano, Principal