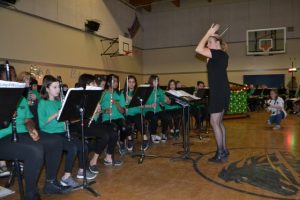 Welcome to Glanford Music!
We are proud of our vibrant music program which is home to over 200 students in our school!
At Glanford, everyone is encouraged to participate in the Music program. 
Our motto at Glanford is, "Get Involved!"
Being involved in Music allows students to quickly develop a sense of community where they learn about diversity and acceptance. Students are encouraged to develop their ability to be critical thinkers; reflecting on culture, music, art and life.  We love how playing music in middle school widens their perspective, broadens their scope of creativity and expression and develops their personal growth as young people.
There's so much to do:
Concert Band ( Band 6, Band 7, Band 8 )

Jazz Band 

Strings ( Beginner, Intermediate and Advanced )

Choir
"With music, one's whole future life is brightened. This is such a treasure in life that it helps us over many troubles and difficulties. Music is nourishment, a comforting elixir. Music multiplies all that is beautiful and of value in life."  – Zoltan Kodaly
We hope to see you in Music!
Directors:
Band and Choral Director – Jennifer Kelly
Strings Director – Jennifer Fisher
Music Exploratory – Jonathan Bridgman